For the 6th day of our 12 Days of Giveaways we are excited to bring you this awesome freebie from Sew What Embroidery.  AND a sweet giveaway from Embroidery on Balls.  Hop on over to both of these wonderful groups to snag your goodies. Also make sure you check into all your groups as you never know what other fun things may be going on.
Today is our GIVEAWAY/ ENTER TO WIN Day!!
This brand new design can be yours today simply by telling us what's the biggest thing on your wishlist this year! What do you want the big man to bring you? What are you working towards for your business? For your personal self? Let us know in the comments below! One lucky person will WIN THIS IN THE HOOP ORNAMENT design!!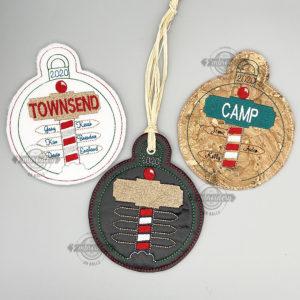 If you don't win it, you can use tomorrow's coupon code to buy it with a discount. Stay tuned for tomorrow's code!